Gallery Wrap Old T-Shirts!
July 20, 2009
I'm a big fan of those stupid t-shirts sold by the likes of bustedtees, shirt.woot, and threadless, although I generally couldn't pull off wearing most of them for the following reasons:
Feel like I'd offend people
Horrific color choices
Novelty would wear off after first use
Ugly T-Shirt
Shirt's never available in my size
I also sometimes buy said shirts only to find out they fall into one of the aforementioned categories, leaving them sitting in my closet feeling neglected. Because I can't get myself to buy art/decoration as it's generally meaningless/expensive, I had an idea last fall to gallery wrap shirts, effectively turning them into prints.
While there are obvious questions as to the quality of the gallery wrapping t-shirts, I was pleasantly surprised with the outcome of my little experiment.
For only the cost of a $5 box frame (with tax- buyable at local arts/crafts store) and t-shirt, you can have a rather awesome piece of artwork.
Step 1: Get Materials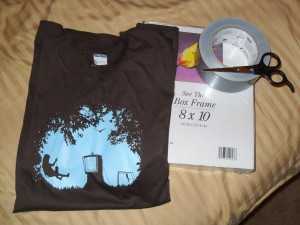 If you get a similar kind of box frame, I recommend keeping the cardboard support that comes with it. It provides holes for hanging, and more importantly, helps strech the "canvas".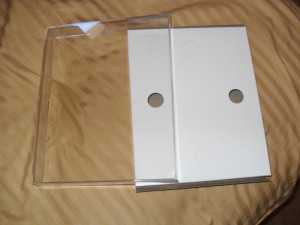 Step 2: Cut out front panel of shirt
I recommend centering the box frame underneath the shirt to figure out where to cut. Some shirts may not work well if the seams are visible.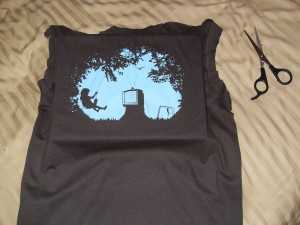 Cut off the bottom so you have just enough cloth to work with.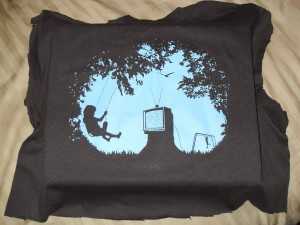 Step 3: Tape the shirt to the box frame
Depending on where you want the folds of the shirt to be (I chose top/bottom), start taping the shirt to the frame with some heavy duty tape, keeping the shirt as tight and wrinkle free as possible.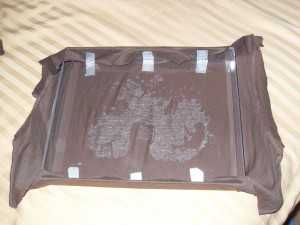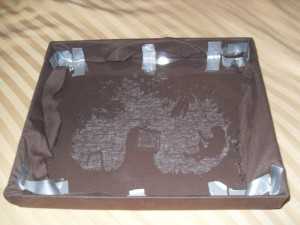 Step 4: Put cardboard support back in
If you don't have cardboard support, I suggest constructing something similar with cardboard, or just taping the shirt down. If you tape the shirt down directly, add another layer of canvas under the shirt to prevent light getting through.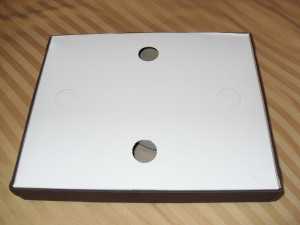 And the finished product:
That's it, and it takes about 15-20 minutes!
Some other box frames:
---